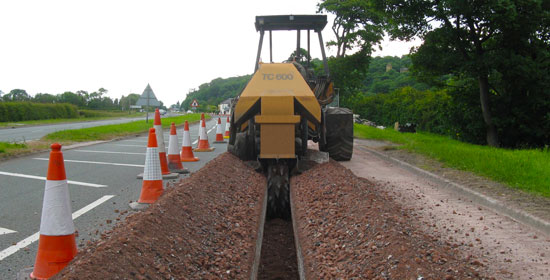 Top Cutter Hire
Contradig can supply top cutting machines and equipment for any size project, at most locations within the United Kingdom.
With a wide variety of machines available to hire, we can ensure projects of any scale and type can be met effectively and efficiently, saving both time and money. All road paving materials can be cut including tarmac, asphalt, concrete and reinforced concrete.
Trench width - from 150mm through to 450mm (per pass).
Trench depth - from ground level through to 750mm (per pass).
Option of parallel cuts to cut wider width trenches
All our top cutters are supplied and operated by experienced, CPCS (Construction Plant Competence Scheme) trained staff who will carry out work to the highest quality. With full dust skirting and water jetting our top cutters are able to work safely in public areas with minimal disruption.
Contradig would be delighted to quote for any top cutting requirement to may have.
Please call us on 07841 976 918 or click here to e-mail us.
Services Overview
Contradig can cater top cutting contracts of all sizes in all sectors. All our top cutters are expertly operated by experienced, CPCS trained staff.
Our services include...
Wind Farms
Solar Farms
Geothermal Systems
Pipeline Installation & Maintenance
Telecom & Data Communications
Resevoirs & Drainage
Electricity Infrastructure
Motorway / Road Construction
Runway Construction
Contact us here to discuss your project.